Spring is a welcome change after some long, chilly winter months. It is also a great time to make fresh upgrades to your home to bring in the new season. These home improvement project ideas – all very doable – can inject new energy into your living space.
Let fresh air in
If window and doors have been closed for months, rooms typically feel on the stale side. When the weather gets warmer, open your windows and allow fresh air to circulate throughout the home.
Use this time to clean, drapery, upholstery, carpets,  and area rugs. Place the items outside to air out naturally — avoid using your dryer's air setting. If you want to upgrade your entire decor, you can easily do that by updating your textiles. If finances are not a concern, think about giving pre-loved drapes,  carpeting, and older furniture to a charity.
Paint to perfection
Walls that were once bright and cheery can grow dull over time. But a fresh coat of paint always brings new life to any room. Try a color in a similar hue or try a new bold and vibrant color. Gray tones are still extremely popular in many homes
Make what's old new again
Oftentimes, a simple update like rearranging a room can make a world of difference. Furnishings are usually an afterthought because they've been in the same spot for a long period. Try to stage your furniture so that you create better conversation groupings; consider showcasing an heirloom piece that was perhaps hidden away in storage. Filling your surroundings with stylish accessories and accent pieces shows off dramatic changes in your decor.
Choose energy-efficient products
There are many hues of green popping up this spring, it's a good time to be more aware of the environment. Try to add energy-efficient upgrades like energy-saving light-bulbs, low-flush toilets, and low-flow shower heads. Combined or used alone, these products dramatically lower your energy bills.
A great home improvement tip to increase energy conservation involves maximizing daylight. It's not likely that you can change window placements and sky-lights but you can utilize energy naturally, and minimize your reliance on electricity.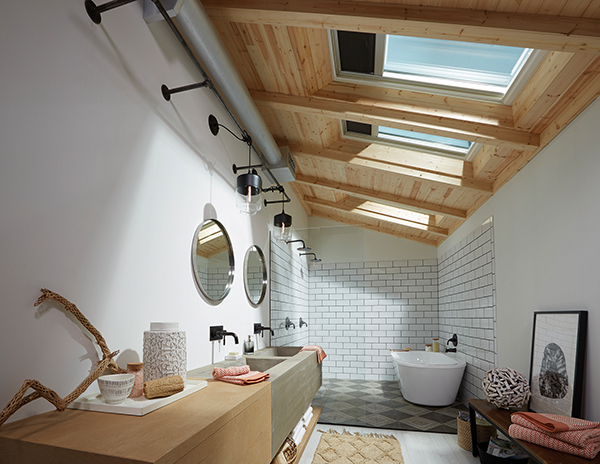 5 tips for enhancing your room
1. Begin with a blank slate. Do away with unpopular and outdated popcorn ceilings and textured finishes.
2. Design with color. Painting ceilings add depth to a room plus it acts as an accent to traditional, neutral walls. Architectural elements like crown molding can be painted— these elements add dimension to ordinary spaces.
3. Bring in natural light. Any room filled with sunlight adds a new vibe and energy to it. However, a solar-powered Velux skylight is an amazing alternative to natural light. This skylight is also an economical way to brighten your living space.
4. Improve your decor by adding accessories. Modern blinds are both practical and attractive. On the functional side, blinds not only block sunshine on a hot day—they also give you a ton of privacy. Window blinds come in a huge assortment of styles and colors that coordinates with the look and feel of your decor. Also, look for blinds operated by remote control.
5. Let your creativity shine. Accessorizing a wall space opens up endless possibilities. You can highlight walls by adding decor items such as shelving units for extra storage.
Whatever your home improvement needs…natural lighting, fresh air, making a room look bigger, or sophistication in a room, a skylight could be just the ticket. Room-darkening blinds can give you that touch of color to spice up your space, and block excess light.
What spring home improvement projects are you working on?