After a long winter cooped up indoors, spring is the perfect time to start reinvigorating your home by making upgrades that create a fresh, tranquil vibe. These home improvement project ideas – some big, some small – can help breathe new life into your home, enabling you to enjoy your living space to the fullest.
Air it out
If window and doors have been closed for months, rooms typically feel on the stale side. As soon as temperatures rise, throw open the windows and let the fresh air chase away the remnants of winter.
Spring is the perfect time to launder window treatments and clean area rugs. Allow rugs to air-dry outdoors rather than in the dryer. If you're considering an update to the overall decor, changing out these textiles is an easy and affordable way to create a new look. Consider donating tattered drapes and rugs instead of bringing them back into the room.
Paint to perfection
Walls that were once bright and cheery can grow dull over time. Create a fresh ambiance with a fresh coat of paint. Choose the same shade or try a brand new striking color. Gray tones are still extremely popular in many homes
Make what's old new again
Oftentimes, a simple update like rearranging a room can make a world of difference. Furnishings are usually an afterthought because they've been in the same spot for a long period. Try moving things around to create new conversation groupings or showcase an heirloom piece that was perhaps hidden away in storage. Embellishing surroundings with simple accessories or accent pieces shows off dramatic changes in your decor.
Get earth smart
With so many hues of green popping up this spring, it's a good time to be more mindful of the environment. Earth-friendly upgrades like switching out inefficient lighting or installing low-flow toilets and shower heads can make an incredible difference in your energy bills.
Another home improvement option for energy conservation involves looking for ways to maximize natural light and brighten rooms. It's not likely that you can change window placements and sky-lights but you can harness energy naturally, and minimize your reliance on electricity.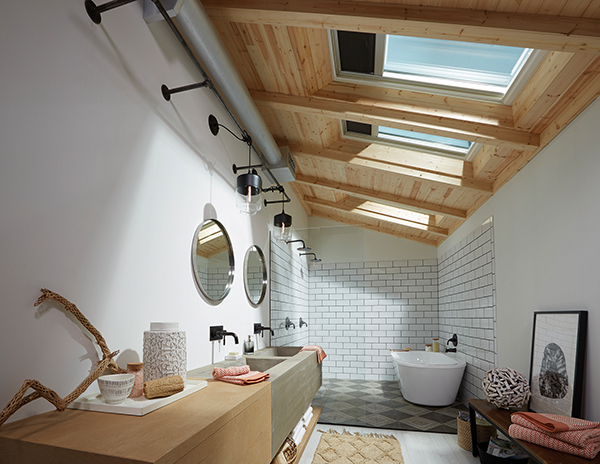 5 Ways to Make the Most of Your 5th Wall
1. Start with a smooth canvas. Do away with unsightly popcorn ceilings or other textured finishes that are dated and unattractive.
2. Add some color. Bring character to the room by adding color to the ceiling that accents traditional, neutral walls. If you have eaves, dormers or other architectural elements, consider painting some and leaving others white for variety and added dimension.
3. Introduce natural light. Certainly natural light brightens a room in a whole new way. A feature like the Velux skylight is a wise option because it offers numerous ways to customize the skylight to your specific space and needs.
4. Enhance with accessories. Modern blinds are both practical and attractive. They let you control the lighting, such as blocking out rays during on humid days while letting the gentle evening light illuminate the room. In addition to choosing a style and color that complements the room decor, also look for blinds operated by remote control.
5. Get creative. Accessorizing a wall space opens up endless possibilities. You can highlight walls by adding decor items such as shelving units for extra storage.
Whatever your home improvement needs…natural light, fresh air, a sense of spaciousness or sophistication in a room, a skylight may be just the solution. Room-darkening and light-filtering blinds can add a splash of color just where you need it, and effectively shields your space from the sun.
What spring home improvement projects are you working on?