When cool and creamy meets tangy and fruity, what do you get?
Ok, I'll give you a clue. It's an old favorite—Lemon Raspberry Ribbon Pie.  It's got oodles of whipped cream, fruit, and sweet, sweet condensed milk.
Combining the whipped cream with the condensed milk and lemon juice gives the pie a cheesecake-like flavor and consistency.
This perfect summer dessert treat couldn't be more easy to make. Check it out below.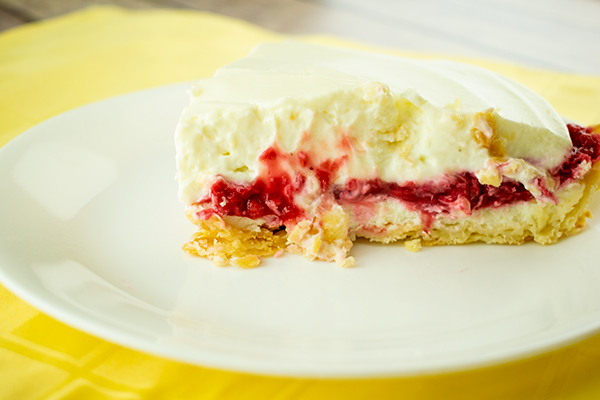 Lemon Raspberry Ribbon Pie
Prep time: 20 minutes
Cook time: 10 minutes
Yields one 9-inch pie
Ingredients:
1 (10-ounce) package frozen red raspberries, thawed
1 tablespoon cornstarch
1 (14-ounce) can Eagle Brand Sweetened Condensed Milk (NOT evaporated milk)
1/2 cup lemon juice from concentrate
Yellow food coloring, (optional)
2 cups (1 pint) whipping cream, whipped until stiffened
1 (9-inch) pastry shell, baked
Fresh raspberries for garnish, (optional)
Method:
In a small saucepan, combine raspberries and cornstarch; cook and stir until thickened and clear. Cool 10 minutes. Chill thoroughly, about 20 minutes.
In a large bowl, combine condensed milk, lemon juice and food coloring if using. Fold in whipped cream. Spread one-third lemon mixture into prepared pastry shell; top with raspberry mixture, then add remaining lemon mixture.
Chill thoroughly. Garnish as desired. Refrigerate leftovers.
Looking for another easy-to-make dessert this summer? Find more at Culinary.net.