When holiday festivities bring to mind thoughts of joy and celebration with loved ones, there's one element of the season that can be a source of stress: gifting.
Make this year's shopping trip much easier by thinking ahead about some practical gifts for family and friends on your holiday list.
When you start the holiday season with a plan and gift ideas in mind, you're able to save time you'd normally spend in stores and online.
And, you'll also improve your chances of tracking down the right present for each person on your gift list.
This post contains affiliate links. Please see my disclosure for more details.
From tasty foods, sentimental items, handy tools, and home decor—this selection of gifts can help you shop for people who always say 'don't get me anything'. Find many more holiday gift ideas at eLivingToday.
There are a lot of sales on right now. If you're looking for fashion and accessories gift ideas, check the list below: 
ASOS 70% OFF Fashion & Accessories 
Lane Bryant 50% Off All Clearance! Valid until 12/23
Coach Holiday Sale 50% Off Select Women's Bags Including Bestsellers Swagger and Dinky

Sephora $25 & Under
Macy's 20% OFF Storewide with Free Shipping with Code: JOY 

Related Posts

LED Desk Lamp 
For a healthier way to protect your vision, give the gift of a lighting upgrade for a home office. This Refine LED Desk Lamp from OttLite's Wellness Series provides a smooth, uniform lighting experience and eyestrain reduction up to 51 percent.
The brushed nickel finish gives this lamp an elegant appeal. Its convenient USB port charges your electronic devices while four brightness settings allow for functional control.
You get evenly distributed, balanced, and amazing natural illumination. Check out this neat lamp at OttLite.
Great Steak – The Tasteful Gift Combo
Here's a unique gift idea. This holiday season, give the gift of 'good taste' with The Tasteful Gift combo from Omaha Steaks.
This popular gourmet collection is sure to please. Just take a second to see what it includes:
2 Filet Mignons 
2 Top Sirloins 
2 meaty Boneless Pork Chops
4 Potatoes Au Gratin
4 Caramel Apple Tartlets
1 Signature Seasoning Packet
This collection is available for a limited-time holiday price and is offered with free shipping. If you buy now, this gift can be frozen and enjoyed at a late date. 
Hands-free Lighting
If you're looking for a gift for a jogger, hiker, biker, camper or someone who takes on many DIY home projects, look no further. Consider a headlamp from Energizer to help them light their way safely.
With a pivoting head, adjustable band, and multiple light modes, the headlamp can adjust to fit many lighting needs. It is lightweight and ideal for anyone looking for hands-free illumination. 
Cookware For the Home Chef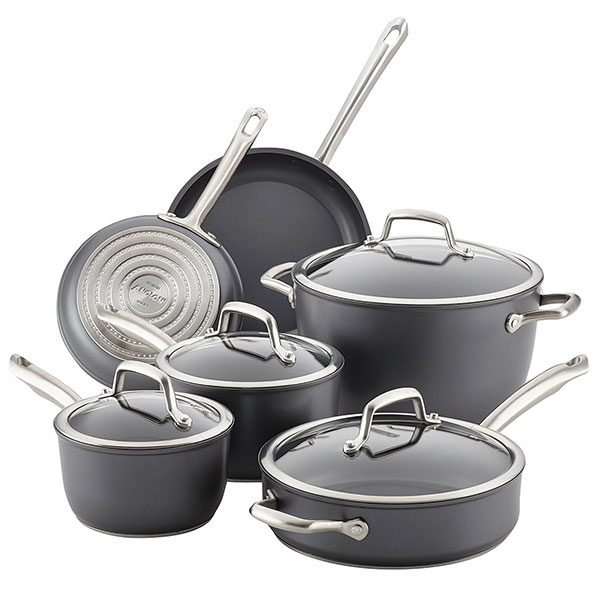 For the avid home-cook, the Anolon Accolade 10 Piece Set is perfect. This set features advanced and patented technology from the copper-layer base—allowing for energy-efficient heating and exceptional durability.
Another key feature is the sapphire-reinforced, triple layer, metal-and-utensil-safe nonstick coating. Exceptional flavor is enhanced with this cookware and cleanup is a breeze.
Induction safe, dishwasher-safe, and oven-safe to 500 °F, this gourmet cookware inspires confidence and creativity in the kitchen. 
Share the Wonder this Season
Invite your friends and family into a world of wonder this holiday season with pop-up Hallmark Paper Wonder cards.
With intricate detail and 3D design, the cards unfold and pop up — ultimately expanding to reveal a fun surprise. This gift is perfect to display all season on your mantle.
Make the holiday come alive when you shop this collection. These cool greeting cards can inspire people to get creative and share the best of the holidays with those they love.
Enjoy your shopping!