'Tis the season for Christmas shopping.

Don't worry if you need a little extra help with your gift list this holiday season. The ideas in this gift guide are curated by Macy's. Their special team of experts can help you to select the most perfect, on-trend Christmas gifts.
According to Durand Guion, group vice president at Macy's Fashion Office:
The holidays are our favorite time of the year. As the gift destination, we believe in the wonder of giving and are excited to help our shoppers find the perfect gifts.
Our fashion directors have highlighted the best selection of fashion, beauty and home with trendy pieces that are not only versatile but also inspiring, whether they're for gifting, dressing or entertaining.
This post contains affiliate links. Please see my disclosure for more details.
Have a look through Macy's gift guide for more inspiration. You can also find more ideas here.
Decorative Pillows
Bring home the holiday cheer this season with cozy throws and decorative pillows that are perfect for snugging in front of the fireplace.
Choose from several pillow options, including:
* Basket Weave Faux-Fur Pom Pom Throw
* Snuggle by the Fire Pillow
* Holiday Truck Pillow
* Stand Out Scottie Pillow.
These comfy throws and pillows from Martha Stewart Collection comprise of faux fur and velvet fabric. They're big enough to curl under and nice for keeping you toasty on chilly nights.
Beauty Products
For the woman who is beauty-obsessed, give her a gift of relaxation with the popular Tony Moly sheet mask set. The set includes 19 masks in total. What you get are pulp sheet masks, layering sheet masks, gel face masks, and gel eye masks. Sounds like a good reason to have a girls' night in.
If you love red wine, try the Red Wine Face Mask Sheet.  It will totally help to tighten and purify the skin. If you prefer lemon flavors, the I'm Real Lemon Mask Sheet (high in Vitamin C) will help brighten your skin tone and combat hyper-pigmentation.
Tony Moly mask sheets work for all skin type.
Entertaining Games
If you regularly host guests at your home, you know that the entertainment is key at any party. So, you can entertain family and friends together with the Studio Mercantile Stacking Game.
The game is a modern version of a classic board game. The set includes 40 wooden blocks engraved with prompts that can make things pretty interesting in competition. You also get 14 blank blocks that you can use to create your own entertaining tasks.
This enjoyable game is meant to be played while sharing a round of drinks. 
Luxurious Lounge Slippers
This holiday season, bring forth the glamorous streak of a special woman in your life by giving them sparkly slippers from I.N.C. International Concepts.
These comfy, moccasin-style slippers are faux-fur lined. You can buy them in four vibrant glitter colors – Rose Gold, Black, Navy, and Silver.
You can't go wrong with glitter. Sparkle on…
For Him
Perfect for the office or a night on the town (and just about anything in between), this Tommy Hilfiger watch will make a lasting impression for the special man on your list.
It is designed with a black stainless steel band and a simple minimalist dial. Suitable for a beach vacation, this timepiece is water-resistant to 30 meters.
The black-on-black design is a modern upgrade from traditional watch designs and can keep your man in style for years to come.
Glassware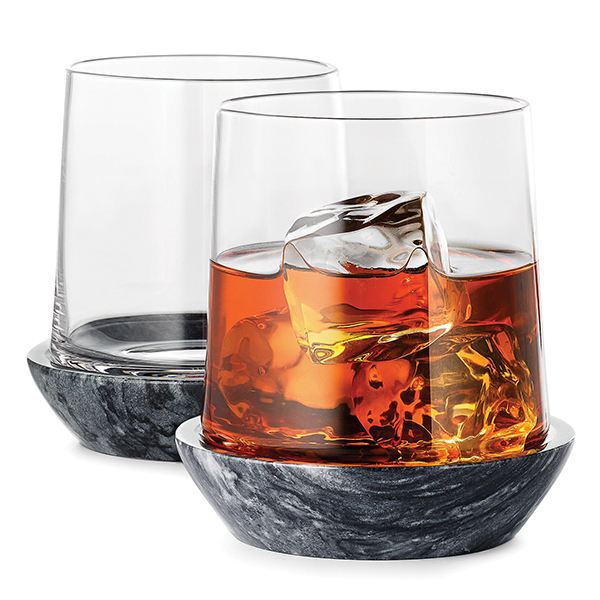 Savor your favorite spirits with loved ones this holiday season with a set of whiskey glasses from the Hotel Collection. In the set are 2 14.7-ounce glasses and 2 stunning and unusually shaped black marble coasters.
The coasters on their own make quite a statement. They also protect your furniture and surfaces from cup marks, drips, and spills.
Where is your favorite place to shop for Christmas gifts? And what's on your gift list?