When hosting a game day party, you'd think the focus would be on the score or the award-winning commercials. No…it's all about the food and indulging in flavor-filled bites. When the big day rolls around, let your guests obsess over the game while you serve up game day recipes including ooey-gooey dips, saucy wings, and football-themed desserts.
Dip into delicious
No watch-party menu is complete without a cheesy dip. This over-the-top dip brings big flavor and is perfect for kicking the party up a notch as you celebrate your team's next big play.
Slow cook your cornbread
This recipe for cornbread is amped-up with paprika, garlic powder, and cheese. You can simply set it, forget it, then enjoy a slice or two with your favorite chili or ribs.
Go ahead and wing it
Wings and football go together like quarterbacks and touchdowns. This year, try a south-of-the-border version by flavoring chicken wings with a cheesy taco seasoning mix. For extra flair, serve them on a platter with taco fixings.
Fan-favorite desserts
Win or lose, there's always room for dessert. Football-themed, bite-size truffles require just five ingredients and are the perfect finishing touch(down) for your game-day spread.
Find more flavorful game-day recipes and ideas for your party at McCormick.
Chocolate Raspberry Football Cookie Truffles
4         cups crumbled chewy chocolate cookies
1 1/2   cups marshmallow creme
2         teaspoons McCormick Raspberry Extract
12       ounces semi-sweet chocolate, chopped
1         ounce white chocolate, melted
In large bowl, mix crumbled cookies, marshmallow creme and raspberry flavor until well blended. Shape mixture into 1-inch ovals. Set aside.
Melt chocolate as directed on package. Using a fork, dip one cookie truffle at a time into the chocolate. Tap cookie 2-3 on  edge of dish to allow excess chocolate to drip off. Place cookies on wax paper-lined tray. Refrigerate 30 minutes, or until chocolate is set.
Spoon melted white chocolate into a re-sealable plastic bag. Cut small piece from one bottom corner of bag. Close bag tightly then make pipe lines on truffles to resemble football stitching. Let stand until chocolate is set.
Note: Cookies can be stored in covered container at room temperature up to 5 days.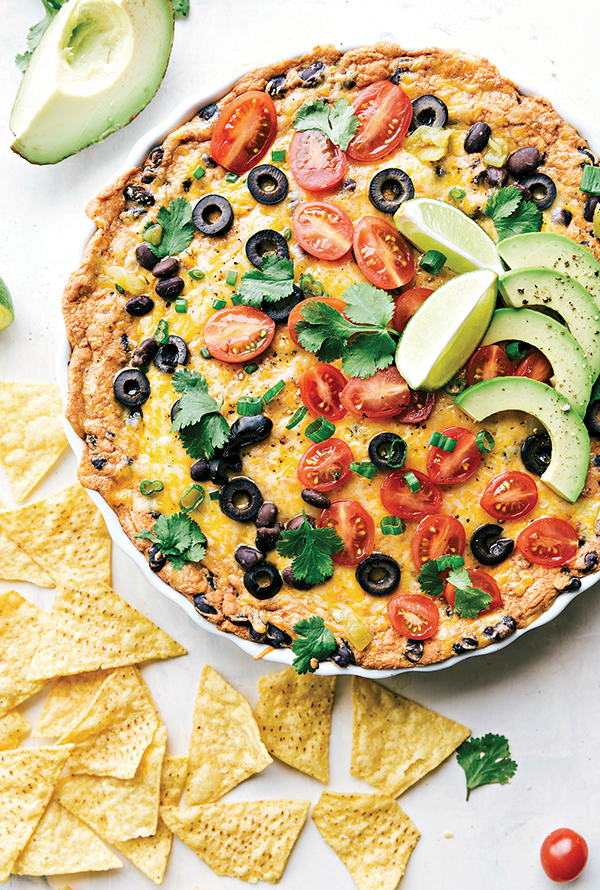 Texas Trash Dip
1          package (8 ounces) cream cheese
1          cup sour cream
2          cans (16 ounces each) refried beans
1          can (4 1/2 ounces) chopped green chilies, drained
1          package McCormick Taco Seasoning Mix
4          cups shredded Mexican cheese blend, divided
nonstick cooking spray
chopped parsley (optional)
tomatoes (optional)
sliced olives (optional)
avocado (optional)
tortilla chips
Heat oven to 350° F.
In large, microwavable bowl, heat cream cheese and sour cream on high 1 minute, or until cheese is softened. Remove from microwave and mix with wire whisk until smooth. Add refried beans, green chilies, seasoning mix and 2 cups cheese; mix til well combined.
Spread bean mixture into 13″ x 9″ baking dish sprayed with nonstick cooking spray. Sprinkle with remaining cheese.
Bake 25 minutes, or until cheese is melted. Top with parsley, tomatoes, sliced olives and avocado, if desired. Serve with tortilla chips.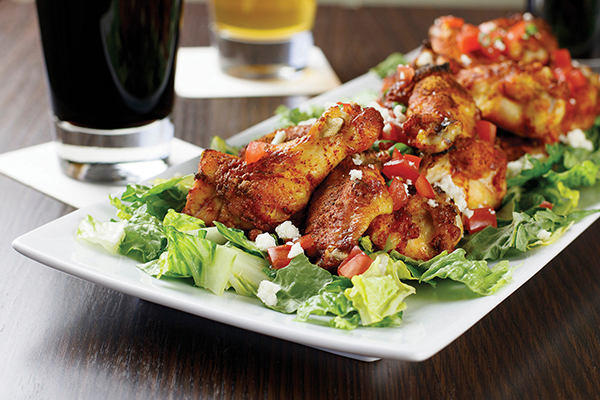 Cheesy Taco Wings
2 1/2  pounds chicken wing pieces
1          package McCormick Cheesy Taco Mix
            nonstick cooking spray
3         cups chopped romaine lettuce
1/4     cup finely chopped tomato
2         tablespoons sliced green onion
1          tablespoons crumbled queso fresco
Heat oven to 450° F.
In large bowl, toss chicken wings with seasoning mix. Coat shallow foil-lined baking pan with nonstick cooking spray Arrange wings in single layer on baking pan.
Bake 30-35 minutes, or until chicken is cooked through and skin is crispy.
On large serving platter, arrange lettuce. Top with wings, tomato, green onion and queso fresco.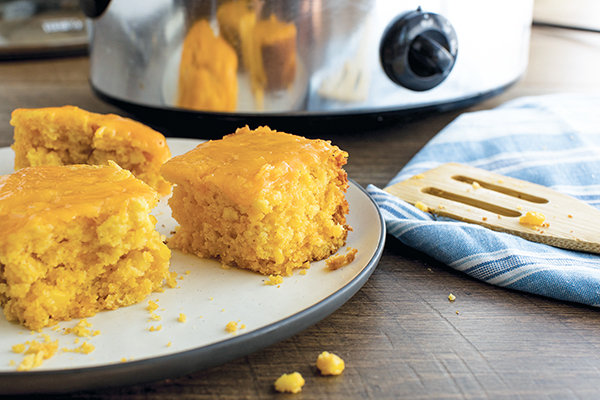 Slow Cooker Cheesy Cornbread
        Nonstick cooking spray
1      cup milk
3      eggs, beaten
2      packages (8 1/2 ounces each) corn muffin mix
1       teaspoon McCormick Paprika
1/2   teaspoon McCormick Garlic Powder
1/2   teaspoon salt
1       cup frozen corn
2      cups shredded cheddar cheese, divided
Spray inside of 6-quart slow cooker with nonstick cooking spray. In slow cooker, mix milk, eggs, corn muffin mix, paprika, garlic powder and salt until well blended.
Stir in corn and 1 cup cheese. Place clean kitchen towel over slow cooker and cover with lid.
Cook 2 hours on high, or until toothpick in center of cornbread comes out clean. Uncover.
Sprinkle cornbread with remaining cheese. Let stand, uncovered, 30 minutes, or until cheese melts.
What are your favorite game day recipes on Super Bowl Sunday?