Make your next…or first…fiesta one to remember. Of course, you'll want to bring out some colorful decor and other festive touches. But seriously, perhaps most importantly, it's the authentic cuisine and fiesta recipes that will grab your attention first, then the sombreros.
You can throw together a fiesta in very little time. Try some no-fail fiesta recipes to get this party started and taste the real flavors of a fiesta done just right.
Kick things up a notch and add a touch of spice with a product like Rio Luna Organic Peppers.
Stock up on the peppers if you want. You can buy them in 4 varieties (all spicy of course):
Diced Jalapenos
Diced Green Chiles
Nacho Sliced Jalapenos
Large Chopped Green Chiles
A note about these peppers—they're organic certified and non-GMO. Have no worries either about fat and cholesterol and calories. There's none…NADA. How often does that happen?
Let me not forget to mention that the peppers are low-calorie and kosher too!
Disclosure: This post may contain affiliate links. We may receive compensation if you sign up for or purchase products linked below. We only recommend products or services we use personally or believe will add value to our readers.
Tempting Toppings For Tasty Tacos
When it comes to preparing fiesta foods that fit almost anyone's taste, try to include tacos. It's go-to party favorite and takes little time or effort to make.
If you want, let your guests put together their own tacos so that the food prep is easier for you. Furthermore, as the host of the fiesta, you don't want to spend a lot of time in the kitchen while everyone else is celebrating, or eating.
The number of taco-topping options is plentiful. So, here's a list of toppings to help you build the perfect taco bar at your next fiesta:
Shredded cheese
Sour cream
Beans (black, pinto or refried)
Salsa
Shredded lettuce
Rice
Rio Luna Organic Peppers
Chopped tomatoes
Chopped onions
Diced avocado or guacamole
Sliced black olives
Corn
Cilantro
Lime wedges
Find more ways to spice up your fiestas as well as your everyday recipes at Rioluna Peppers – Our meals.  You can also connect with Rio Luna Organics on Facebook and Instagram.
Spanish paprika has an amazing smoky flavor and works with your meat dishes, seafood, stews, and international cuisine.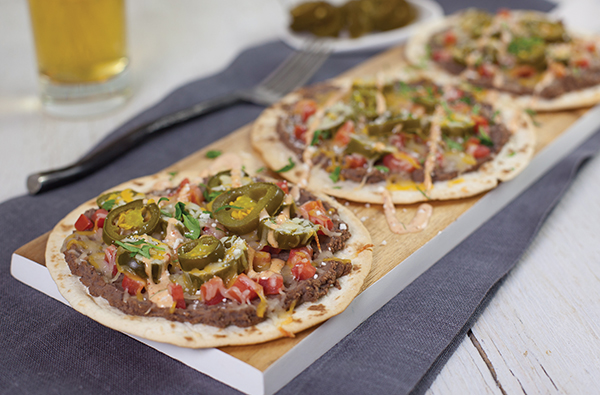 Tortilla Pizzas
Prep time: 15 minutes
Cook time: 10 minutes
Servings: 4
4          flour tortillas (8 inches)
1          can (15 ounces) refried black beans
4          fresh plum tomatoes, chopped
1          can (4 ounces) Rio Luna Organic Nacho Sliced Jalapenos, drained
1 1/3   cups shredded Mexican cheese blend
1          tablespoon chopped fresh cilantro
            chipotle-ranch dressing (optional)
Heat oven to 400° F.
Bake tortillas directly on oven rack for 2 minutes. Cool slightly then spread 1/4 cup beans onto each tortilla. Top evenly with tomatoes, jalapenos, and cheese.
Bake 8 minutes, or until cheese is melted. Sprinkle with cilantro just before serving.
Tip: For added flavor, drizzle chipotle-ranch dressing over pizzas.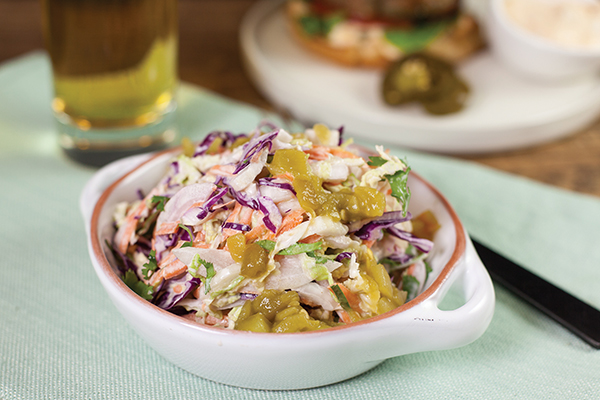 Coleslaw with Green Chile Dressing
Prep time: 20 minutes
Servings: 6
1 1/2   cups mayonnaise
1          cup sour cream
3/4     cup Rio Luna Organic Diced Green Chiles, drained
6          tablespoons apple cider vinegar
2          tablespoons Dijon mustard
2          tablespoons Sriracha sauce
2          tablespoons honey
2          cups shredded Napa cabbage
1          cup shredded red cabbage
1          cup shredded carrots
1/2      cup thinly sliced white onions
2 1/4   teaspoons kosher salt, plus extra, to taste
1/2      teaspoons ground black pepper
In a medium bowl, whisk mayonnaise, sour cream, Chiles, apple cider vinegar, Dijon mustard, Sriracha, and honey. Mix until well blended.
In a large bowl, combine Napa cabbage, red cabbage, carrots, onions, salt, and pepper. Add mayonnaise mixture; toss until well coated. Season with additional salt and pepper, if desired, to taste. Serve in a salad bowl. I personally like and use white Corelle products because they look simple and elegant with your table settings.
Tip: Coleslaw can be prepared ahead of time and refrigerated up to 1 day. Toss before serving.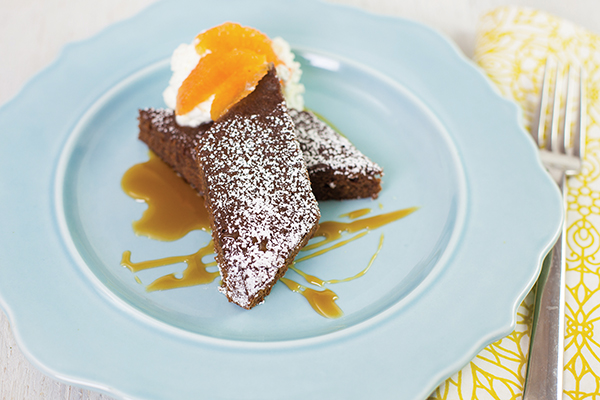 Jalapeno Brownies
Prep time: 15 minutes
Cook time: 15 minutes
Servings: 16
1/2     cup vegetable oil
1         cup sugar
2        eggs
1         can (4 ounces) Rio Luna Organic Diced Jalapenos, pureed
1         teaspoon vanilla
1/2     cup, plus 3 tablespoons, all-purpose flour
1/3     cup cocoa powder
1/4     teaspoon baking powder
1/4     teaspoon salt
powdered sugar (optional)
Heat oven to 350° F.
In a medium bowl, whisk oil, sugar, eggs, jalapenos, and vanilla until well blended.
In a separate bowl, combine flour, cocoa powder, baking powder and salt; add to egg mixture. Mix just until combined. Pour into greased 8 x 8″ baking pan.
Bake 15-20 minutes, or until brownies pull away from sides of pan easily. Cool in pan on wire rack.
Dust brownies with powdered sugar before serving for added flavor and enhanced presentation.
Click here for more AWESOME recipes on Pinterest!